GTI PBX with Mobile Wireless Service offers a large variety of value-added features. Because the PBX system is offered as a service, you do not need to install or maintain any phone switch hardware or software to get all our benefits. All you need is a working telephone for each employee or location that wants to receive calls. GTI PBX works with any kind of phone, including land-based phones, cellular phones, VOIP phones, and more.  Perfect for growing companies, GTI Cloud is easy to deploy with pre-provisioned phones shipped directly to you. Simply plug into your network, and you're ready to go. System updates and end user support are managed for you. And you can rest easy knowing your phone system, service, and support are all coming from the same vendor.
GTI PBX, will help you present a unified company image under one central telephone number. All employees—whether in a central office, branch office, home office, or traveling—will be reachable through your main number. Incoming calls can "follow" an employee, so there is no need to put a list of contact numbers on business cards.
GTI PBX can be designated as a "Live Extension" or a "Voicemail-only Extension"
A live extension is one that connects callers directly to your employees. Calls come into your main number, the caller selects the extension or department that is needed, and a call is placed to the phone number of the employee that owns the live extension. Once the employee on the line, your connect will connect the caller. Live extensions can employ follow-me calling to make sure the extension owner is reached no matter where he or she might be. Voicemail-only extensions go directly to your voicemail boxes.
Easy web portal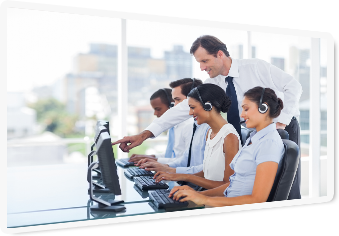 GTI PBX is a hosted service without a lot of complex management. To help make system configuration easy, we provide a web-based tool, accessible from any web browser. Administrators are granted complete access to oversee, change, and monitor all system functions. Our broad range of features gives you the flexibility to set the system up to meet your specific business needs. Configuration and management of individual extensions is done by the extension owners. It can be done via the web or over the phone. Individual employees have access to their own extension, allowing them to check messages, log in and out, and control personal configuration.
Real-time monitoring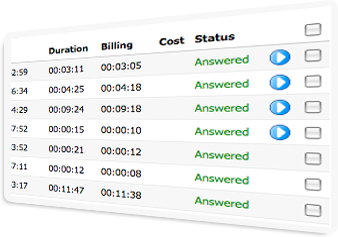 Use the Call Data Records (CDR) to view call logs, cost of calls and more…
Hosted PBX
GTI  hosted PBX service is an affordable and feature-rich phone system for business of any size. Features  include the following:
Industry-leading reliability and call quality

Feature-rich, easy-to-use phones

Unlimited calling to the U.S. and Canada

Intuitive web administration

Mobile device integration

World-class customer service

Much more…
All for one low monthly price, with no hidden fees and zero cost for ongoing technical support.
Simple and Flexible
Supports Legacy or IP-Based Systems

Rich HD Voice Quality

Scalable Functions Grow with Your Business

Extensive Suite of Client Applications

No Setup Fees, No Contracts Required

Technical Support
What Does SIP Trunking Accomplish?
SIP Trunking works in conjunction with your PBX to make for an affordable calling solution.
Some companies aren't comfortable letting go of their current phone system, even though they still want to reap the benefits of Internet telephony. If you're one of these companies, a SIP Trunking solution can let you have both.
SIP is short for "Session Initiation Protocol", and it allows you to pack all data and voice connections into one, single line. Unfortunately, a SIP cannot function by itself. You still need an IP PBX to enjoy the features and functions of VoIP. With SIP Trunking, you can get VoIP connectivity without having to lose those customers who still want to talk via landline.
Technically speaking, SIP refers to a blending of data and voice connections into a single line. Instead of using both a phone network and a data network, you can use the Internet to transfer your voice and your data. SIP trunking uses your on-site PBX (the telephone switching system that you already have) to route the calls. But the difference in price comes from the consolidation of your connections and the increased efficiency that it brings.
In a nutshell, SIP Trunking gives you a kind-of universal phone line. It allows you to communicate with all the conveniences of modern VoIP technology. But at the same time, SIP Trunking also lets you stay in touch with anyone else who would still rather communicate over traditional phone networks.
Why Does SIP Trunking Cost Less?
SIP Trunking costs less because you do not need additional hardware and only pay on a per seat or per minute basis.
There are a lot of technical references that explains why SIP Trunking can cost less than the trunks and circuits employed in PSTN (also called PRI Trunking). Below is a quick summary of what SIP can do for your business:
The cost of extensions: Increasing extensions for PRI Trunking can require the purchase of actual wiring, additional copper cables depending how many extensions you already have, and the usual labor costs for installation. In contrast, SIP Trunking can be set up mostly through software.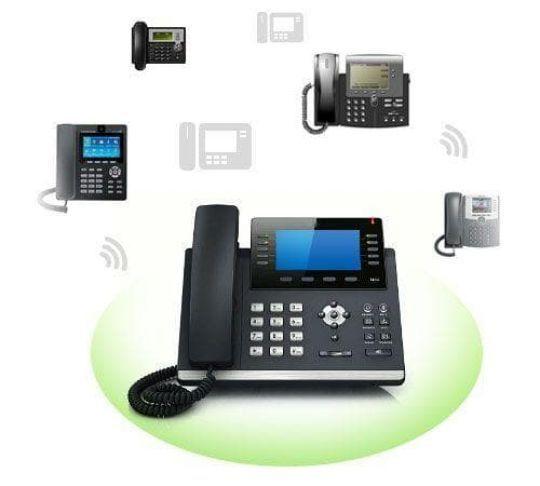 Backups are cheaper, too: When traditional phone lines go down, backing up for it still requires more manual installation. That means more fees, more equipment, and more headaches. That's a lot of trouble when you can just re-route any call over the Internet courtesy of SIP Trunking.
Increasing capacity: Given the cost of just one extension, you can already imagine how much more it would cost you to expand the capacities of your communications. At this point, it's very clear that SIP Trunking is the only way small business owners can have scalability without bankrupting themselves.
Upkeep and maintenance costs: While an on-site IP PBX requires its own maintenance, can you really compare that to the kind heavy equipment that was used by older, more traditional PBX models? The latter would charge you as much as $20 on just one copper cable, and it's likely you'll need at least 4-6 of these for a small business. Doing that math isn't complicated. It's definitely more expensive to grow with an older PBX model.
We empower enterprises to maximize the reach, impact and value of their communications systems by extending and integrating them with any mobile device. Companies use our products and services for Mobile Unified Communications, enterprise text messaging, compliant mobile communications, mobile integration with CRM, and phone usage restrictions for drivers. Solutions are available in a cloud service, or as an on-premises mobile convergence platform
Mobilized Enterprise Communications
Mobile Unified Communications
Voice and data you control on any employee's mobile phone
Compliant Mobile Communications
Record and archive calls employees make on mobile phones
Uses your existing call recording systems used for landlines
Enterprise Text Messaging Solutions
Send and receive text messages from business numbers
SMS text enable your internal messaging apps, like Cisco Jabber
Customer Engagement Mobility Solutions
Integrate mobile communications with Workforce Optimization, Customer Experience and Customer Engagement solutions